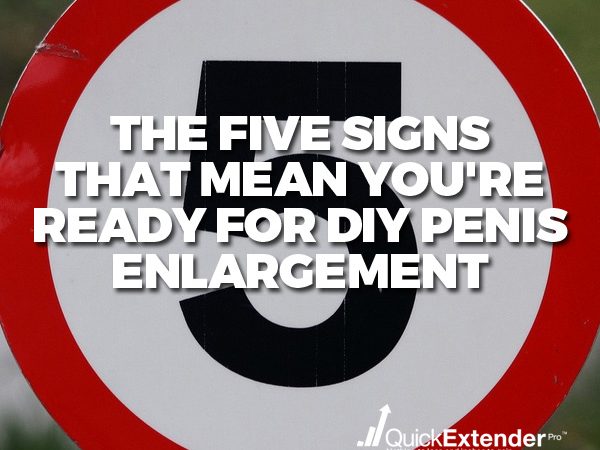 Think you are ready to take the plunge and try some DIY penis enlargement? Products, techniques, and devices for enlargement have come a long way, but they still are not a 'one size fits all' solution. The truth is that penis enlargement is a fairly serious undertaking and one man should take the time to consider critically before he makes the commitment.
At the same time, enlargement is something that, once you make that commitment, you need to see it through. Abandoning the process halfway through will leave you disappointed and constantly wondering about what "could have been". That's why we created this list of five signs that signal when a guy is truly ready for DIY penis enlargement.
You've Done Some Research
As with any other form of body modification, penis enlargement is a complex issue. Men who are serious about changing the shape or size of their penis need to put in the work on researching not only the device they plan to use and the company they want to deal with but also the process as a whole. Many experts liken the enlargement process to the process involved in losing weight or building muscle. It's about a lot more than going through the motions or doing the bare minimum. If you want safe, long-term and healthy results, you need to understand the process and potential pitfalls thoroughly before you begin.
You Have a Schedule in Mind
Wearing a penis enlargement device means committing to several hours a day – or night – with it on. It also usually means doing things like massage in order to boost results. Time management and schedule setting play a huge role in successful enlargement so be sure you know not only how the process will work, but when you will have the time to commit to it.
You Know How to Measure Your Penis
This issue makes some men laugh at first. But they only laugh until they take the time to learn about measuring a penis properly in both its flaccid and erect states. The truth is that it isn't as simple as you probably think it is. Don't get me wrong – it's not exactly brain surgery either but it isn't something you can go into just winging it and hoping for the best. Take the time NOW to learn how to measure properly and consistently so that you can track changes the moment they begin to manifest.
You've Read Reviews and Messages Online
Most guys do their research online but they don't always branch out to read about the personal stories men share. Guys write about their own experiences male enhancement reviews ad well as online forums and groups dedicated to penis enlargement and general sexual enhancement. While getting the facts is an obviously important step, it is equally important that you get a feel for what the process is like on a personal level. Reading through the experiences and perspectives of men who have already gone through this journey can highlight challenges men hadn't considered before. This can also help to encourage men to reach out and use that same community for the support and advice they may need as they go through the penile enlargement process for themselves.
You Have Realistic Expectations
Spoiler Alert: There is no DIY penis enlargement device that will give you the biggest penis in the world. Heck, there isn't even one that will triple your size. These outlandish claims give men false hope and, quite frankly, it also distorts the body image many men have. Be realistic about what you can expect to gain and what you really need in terms of the ideal size for your own body type.