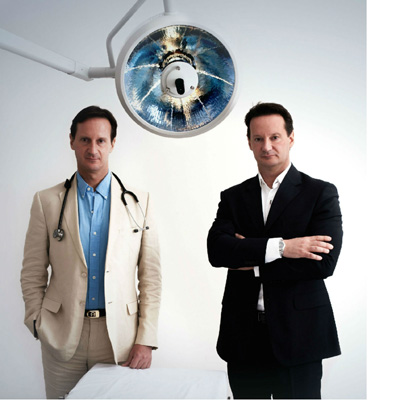 The world of medicine is filled with interesting and eccentric characters. The same can be said about the world of sexual enhancement services and product development. When these two worlds collide, you end up with some extremely interesting characters. Knowing that explains a lot when you meet Maurizio and Roberto Viel, twin brothers and cutting edge plastic surgeons. Although born as identical twins, the brothers have preformed a few surgeries on one another in order to tweak their symmetry. Maurizio has given his brother a nose job, and Roberto helped to 'plump' the look of his brother's face but the twins have received worldwide attention for the one surgery they swear they would never perform on each other – penis enlargement. Officially, the men have been quoted as saying they are simply "comfortable with what nature gave" them but that hasn't prevented them from becoming the most sought after duo in the world of male enhancement surgery.
The Challenges of Surgery
Although surgery to help increase the size or girth of the penis has been around for many years, it remains rarely practiced. Surgical options are typically reserved for extreme cases and, even then, only when any other options have been explored. Surgery on the penis is dangerous and even a small miscalculation can result in more extreme sexual performance problems or trouble with urination, among other things. For most men, the risk simply wasn't worth the outcome.
Then the Viel brothers got involved. Roberto Viel says he performs around 200 penoplasty surgeries each year and that his technique is able to permanently enlarge the penis either in length or girth. Each result is performed with its own specific type of surgery. To increase a patient's penile girth, fat is taken from the belly and used to increase the girth at the base of the penis. This has become a popular surgical option as the doctors promise it only requires one stitch. For length, the procedure is a bit more complicated.
Penis enlargement to increase length involves manipulating the suspensory ligament, which holds the erect penis in place. The doctors have developed a procedure where that ligament is partially severed in order to make the penis drop, or sit lower. The result is that it hands lower by an average of two inches. When erect, the length is not increased and the angle during erection will be lower as well.
The Future of Male Enhancement Surgery
As plastic and cosmetic surgery advances, more options will become available for men who want to change the appearance of their penis. Maurizio and Roberto Viel have built a practice on finding and developing the best practices to achieve amazing results and in recent years they have made headlines with their penoplasty technique. This heralds a new age in male enhancement options as well as serving as inspiration for other doctors as well as product manufacturers.
What drives this force is the army of men who have begun to take their own sexuality more seriously. Men who want to take control of their sexual performance and the shape of their bodies. As pioneers like the Viel brothers develop new and better ways to achieve results, men will have more options available to them and, in time, some surgeries or cosmetic procedures may carry fewer risks. Maurizio and Roberto Viel, for example, continue to look into new methods and explore new ideas in the field of penoplasty. Their dedication has made them the first choice for men who do ultimately decide to take the plunge and their surgical clinics in London and Dubai have become hotspots for men who want the best.
Until then, penis enlargement options that don't require going under the knife continue to explore better ways to achieve those same results. Although surgery isn't a viable option for many men, advancements made on that level often inspire other inventors and medical professionals to focus their attention on male enhancement options. This work carries on and has made it easier than ever for men to find devices, exercise routines and even nutritional supplements that can help with penis size as well as overall sexual enhancement.