As a male who believes that great sex is one of life's greatest pleasures the size of the penis may be something that's impacting how much pleasure is being gained from it. It doesn't have to be this way, though, because there are top quality penile enlargement devices like the Quick Extender Pro. But when it the best time to use a such a device?
Buying a Penile Enlargement Device
Deciding when the best time to use a penile enlargement device is not just about when it should be used after the product has been shipped. It's about deciding when to use an enlargement product at all. For many men it can be a significant blow to their pride when they have to admit that what they were given naturally just isn't working out for them anymore. There are ways to decide on whether the time is right to buy a product that can help with penile enlargement, though. Ask the following questions when choosing whether to buy one of these products or not.
• Is sex becoming less pleasurable for me?
• Do I sometimes feel bad when I think about the size of my penis, does it makes me feel inferior to other men?
• Is my sexual partner not getting the maximum pleasure out of having sex with me these days?
• Will I only consider products that are completely natural and that don't utilize harmful substances?
If the answer to any of the above products is yes then the time is right to be buying a penile enlargement device. The penile extender itself is all about penile enlargement and increasing the length of the penis for the purposes of increasing the amount of gratification that can be gained from having sexual relations with another human being. It doesn't use chemicals and is a long term solution to the problem of having a small penis. Natural products are hard to come by in the male enhancement industry, but this is one of them.
Making the Purchase
There's no point pinpointing a certain time period when this device should be used if it isn't made from the highest quality materials whilst still providing the desired results. Choose an extender that's natural and that customers have said does work. Find these customer reviews by either looking at the maker's website, where reviews and testimonials are often displayed, or by seeking out sites that review these items.
Once the item has been shipped it shouldn't take long to arrive and then results can be seen from the very first use.
When is the Best Time to Use a Penile Extender?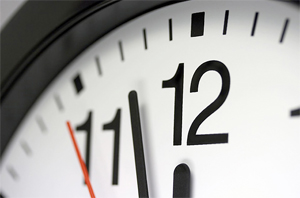 Firstly, it's to be said that the penile enlargement device has to be used on a regular basis. It's impossible to enlarge the penis if it isn't used regularly. If there's only enough time to use it every few days then this isn't the right product to use. However, the good news is that even men with hectic schedules can still find the time to use them without it impacting their lives too much.
Morning: The mornings are a perfect time for men with hectic schedules to use this penile enlargement device. Remember, if long hard days at work are a part of the itinerary then there are going to be lots of occasions where they'll get home from work and claim that they can't be bothered and they'll do it another time. The mornings are where they have the most time and when, more importantly, they are energised and ready to go. The flexibility of top quality products like the Quick Extender Pro means that it can be worn comfortably whilst eating breakfast or shaving.
Afternoon: Late afternoons are the times when lots of working men decide to take advantage of these products. If they don't have anything to do after work then they can go home and just use it then whilst they remember. It's a pleasurable feeling to wear one of these items, so that's why many men are attracted to using them at this point in the day.
Evening: Many men only have the time to wear one of these extenders during the evening. As long as the man is alone and is not entertaining anybody then they can wear the extender in bed, or just whilst getting ready for bed. Just remember that if there's no energy left in the body at this point in the day then abstain from using it as it's easy to fall asleep or to flat-out refuse to use it at all.
In other words, the best time of day to use a penile enlargement device like this is completely subjective. Different men will find that they are more comfortable using it at different times of day. The point is that the extender has the same impact no matter when it happens to be used.