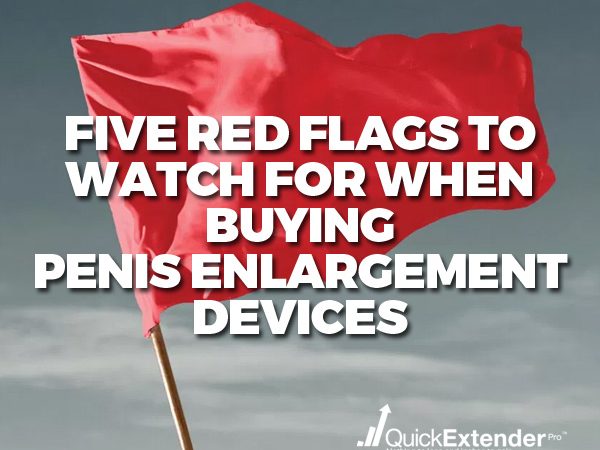 Guys who get into penis enlargement as a way to improve the way they look and feel quickly realize that improving the size of your penis isn't exactly a cheap hobby. Many penis enlargement devices can be a considerable investment. This is why shopping around and checking out reviews for these kinds of products has become so important.
By now, most men know what they should be looking for in a penis enlargement device. Things like ease of use, a proven track record and up front pricing have all be discussed widely and in great detail across many different websites and blogs, including our own. Having said that, not as much coverage has been given to the red flags men should also be looking out for. These warning signs could just be a blip on the radar but when more than one crops up, you may want to consider investing your time – and your money – elsewhere.
A Company with No History
Startup companies have always been around and these days they are even more common. A lot of people are trying to break free of the traditional 9 to 5 grind by launching their own small business. Mail order companies are a great way to begin in the business world and when it comes to startups selling various products, self-improvement and self-help are by far the most common.
Usually, there is no problem or cause for concern when dealing with a new company, but if you are checking out a company and you can't find a mention about them absolutely anywhere, that should be a warning. Some crooked companies will set up shop, sell as much as they can for a few months, then dissolve the business and launch a new company selling the same shoddy merchandise but under a different name. Whenever possible, choose to work with a company that has a reputation you can research.
Poor Photography
When a company is asking you to invest a fair amount of money for their top of the line penis enlargement device, you should at least be able to see the model in great detail. Shoddy photography and low-resolution photographs imply that the company doesn't want you to be able to examine their products closely. Considering the device is something you will be using daily, not being able to see it up close should automatically take it out of the running.
A Model or Brand No One Has Ever Heard of Before
Dealing with a new retail company is one thing, but being the first to test a product model or brand is something else entirely. Some companies offer their newest models or brands at a discounted rate in order to get men talking about them and to boost the number of reviews they receive. If you are checking out a penis enlargement device model or brand that you have never heard of before and you can't find anything about it through your research, see if you can get it cheaply in exchange for a review.
Suspiciously Low Prices
Everyone loves a good deal, but when it comes to penis enlargement be careful about going in for a deal that simply sounds too good to be true. The fact of the matter is that a high-end penis enlargement device is bound to cost a bit of money. It's a medical device that needs to be specifically designed and crafted in order to be safe and effective. If you find a device that swears it's the best on the market and only costs $10 then you're likely to get scammed.
No Contact Information
In this day and age, being able to contact a company by phone, through their website or via social media is absolutely essential. Companies worth their salt want to make it easier for customers to get in touch. Shady companies, on the other hand, will do everything they can to avoid giving you any tangible form of contact information. If the only way you can reach out to a company is through a generic contact form then you know they won't be there for you should anything go wrong.