What to Expect when Using the Quick Extender Pro: Guaranteed Satisfaction or Your Money Back
The Quick Extender Pro is a versatile penis extender and can easily be worn throughout most daily activity. The Patented DSS system is designed for absolute comfort and allows you to wear your Quick Extender Pro for longer time periods throughout the day. This results in quicker enlargement gains when compared to existing penis extenders.
Below is a graph of the average results gained from using the Quick Extender Pro. Keep in mind that this is an average based on existing customers data that we have collected over the years. Individuals who use it for longer daily time periods will gain quicker results. Those who use it for even a couple of hours daily will still notice extremely positive results.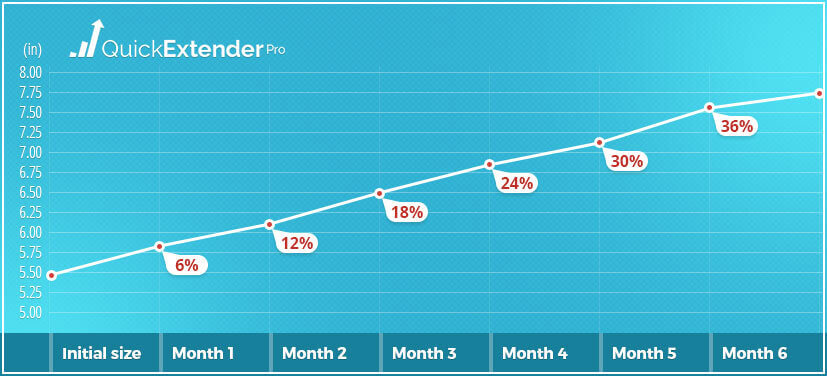 Typical Results - Monthly report
Here is a breakdown of the timetable and average results for the treatment program using the Quick Extender Pro for an average user with a 5 inch erect penis with a girth of 4 1/2 inches over a 6 month time period.
First Month
(Week 1 to Week 4)

The Quick Extender Pro will arrive pre assembled; all you will have to do is adjust the parts to fit your length. For the first couple of days you should feel a light tension on your penis. Although a strange feeling, it will not be uncomfortable thanks to our unique DSS (Double Strap Support) system. Your penis tissue will transition from a dormant state into a growth state within this crucial first month. During this phase your body will begin to prepare the penis receptors to enter into growth mode. You will notice that your erections will become harder and fuller.
This initial change happens because the Quick Extender Pro system exposes your penis to a constant stretch; allowing more blood to enter the penile chambers by improving your circulation. The more blood that can fill up the penis chambers (Corpora Cavernosa), the larger and harder your erection will be.
It is also common that visual size increases can be noticed and measured. If you are consistent in your treatment, you will have completed the first phase which prepares your body for optimized cell regeneration. This process is known as the "Introductory phase" where the body begins to adapt and respond to the Quick Extender Pro penis enlargement program.

First Month Results
Results of gaining between a quarter inch to a little under half an inch in length and girth have been reported by users.
Second Month
(Week 5 to Week 8)

After the introductory phase, your body has now adapted to the physical influence that the Quick Extender Pro applies through its specially calibrated tension mechanism. At this point, painless microscopic tears will begin to occur within the penis tissue. These painless tears at the microscopic level will be visually undetectable and cannot be felt along the surface of the penis.
Your body will naturally sense the gaps within the penis tissue and begin the process of cell multiplication, "mitosis" where the inner cells of the penis tissue begin to divide to fill in the newly created spaces. At this point noticeable changes can be seen in length and girth.

Second Month Results
For the average user, gains of up to half an inch in length and girth are expected within this short time frame!
Third Month and On
(Week 9 and on)

At this point your penis genetic makeup is being re-written at an exponential rate. Your penis tissue cells will be thrown into overdrive as it recognizes that massive amounts of new gaps between each cell have to be filled in. Penis cells will rapidly multiply to compensate for empty gaps within the corpus cavernosum (the spongy tissue the penis is comprised of).
The new cells will add to the penis tissue mass which translates to increased penis length and girth proportionately. With the added capacity for blood to fill your penis, you will also increase the strength of your erections. Don't let the 6 month mark stop you; enjoy limitless potential and permanent results with the Quick Extender Pro penis extender.

Third Month Results
Results of gaining three quarters to a full inch and a half have been reported between the third and sixth months.

Shop Extenders Starting at: $119.93