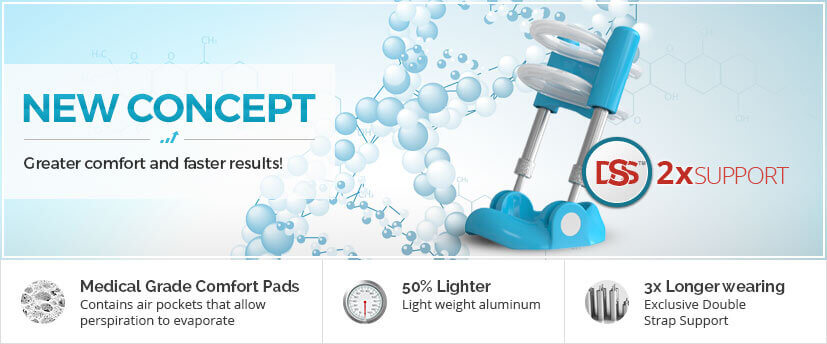 Double Strap Support "DSS" System
Introducing the Next Generation in penis extenders: the Quick Extender Pro DSS system.
The highly acclaimed DSS system features two medical grade silicon tubes to secure the penis shaft and head. This will result in a controlled tension and leaves no chance of slippage, which is a major issue shared by existing penis extenders.
Combined with our deluxe comfort pads, the Quick Extender Pro can now be worn for extended time periods with a secure fit. By raising comfort levels and having a tighter grip the Quick Extender Pro can now be worn longer than competing brands, getting you to your enlargement goals sooner.

DSS - Double Strap Support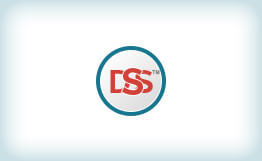 2x Support
3x Longer Wearing

Compare Penis Extenders
Most penis extenders use one silicone tube to attach the penis to the support piece. The pressure is concentrated on a small surface of the penis, thus choking it. Over time, the pain becomes unbearable. The tension has to be tight otherwise the penis will repeatedly come loose, slowing down the enlargement process.
DSS System
The First Double Strap System penis extender is designed with your comfort in mind. Using 2 straps, the Quick Extender Pro distributes the strain while providing a tighter grip with no chance of slippage. A conventional extender system will constantly slip and will have to be continuously readjusted.
-- Engineering Department, Quick Extender Pro
Other Penis Extender Systems
So called "comfort straps" (flat straps) are a concern because bacteria can form under the strap as the penis is unable to breathe properly. Over time, this may create unbearably bad odors and the environment to develop penile infections. The Quick Extender Pro is the gold standard in eliminating the possibility of infection, bad odors and does not choke the penis.
With our extender, you can use HALF the tension to attach the penis to the support piece. We offer you 2 silicone strap attachments. That means that the strain is distributed 50% on each silicone tube, so it is spread out in a manner that it is not painful and holds better to avoid constant slippage.
The medical grade comfort pads also contain air pockets, an exclusive new material that allows perspiration to evaporate unlike older more archaic comfort straps.
The Quick Extender Pro is a premium penis extender system and is composed entirely of medical grade materials. The rods, tension system and attachments are made of a strong and durable aluminum designed to be worn comfortably for long periods of time.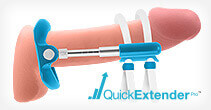 The Double Strap System is exclusive to the Quick Extender Pro.