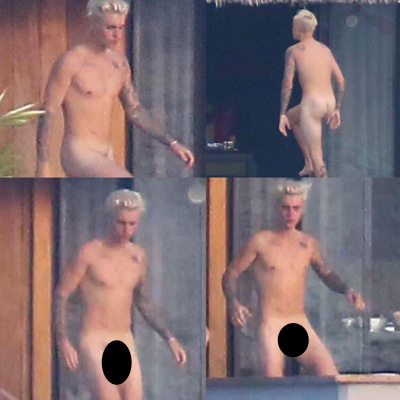 Everyone knows that sex sells, but what sell even more than sex? Celebrity sex. Whether it's sex tapes or just candid photos, catching a celebrity with his or her pants down can make headlines all over. We've seen it with the likes of Paris Hilton and Kim Kardashian but this fall it was Justin Bieber causing a buzz.
In early October of 2015, the internet pretty much exploded when photos of a naked Justin Bieber were leaked. Everyone from professional gossips to fellow celebs felt the need to weigh in once they caught a peek of what Justin had to offer.
Websites and outlets devoted to celebrity gossip were, of course, all over the news and showed censored versions of the photo as often as they could. Even mainstream news outlets picked up the piece. In the end, every outlet from TMZ and radar online to the New York Daily News and the UK Daily Mail wound up devoting a few column inches to the Bieb's … uh, other inches.
Celebrities were quick to jump on the bandwagon, too. Seth Rogan, who you usually wouldn't imagine in connection to Justin, was still talking about it a month after the photos were splashed across the internet. In November of 2015, Rogan had an interview on Howard Stern's nationally syndicated show. While they were talking, Seth mentioned he had run into Bieber at the Ellen show. This run-in came not long after Rogan had blasted The Biebs as being a "piece of sh*t" in a recent post.
But during the Stern interview Stern and Rogan discussed the recent photo and both agreed that Justin had something to be proud of, even if that didn't include his music. Rogan was, however quick to mention that his own penis wasn't far off the Bieber Benchmark. "His frame is so small", Rogan said, "If you took off my [penis] and put it on his body, pound for pound, it might be bigger."
And Justin even received an endorsement deal of sorts. The sex toy company Clone-A-Willy reportedly offered a substantial amount of cash for the rights to clone Justin's penis in order to launch a sex toy.
To top it all off, Justin's own father even felt compelled to give his two cents on the issue. He issued a Tweet that will certainly go down in history as the ultimately cringe-worthy parent moment when he asked his son online "What do you feed that thing?"
So all this begs the question – why was this such a huge news deal? Celebrities have been spotted naked before without it causing waves in every press outlet – so what's so special about Bieber?
Some say it's the surprising size of his penis and, to be fair, it appears to be above average. Others say it suggests the star may have undergone penis enlargement at some point since it looks larger than it should for his frame. Still others suggested that sated the "accidental" exposure and used a vacuum pump penis enlargement device right before he walked outside.
Debate rages on but now men are beginning to wonder if they should be measuring up to the same standards. The fact is only Justin knows for sure if he's used penis enlargement or if he was shot from a flattering angle or even is just naturally well-endowed.
But this proves the pressure to be celebrity hot applies to men every much as it does women. For the world of penis enlargement, this exposure has also led to more interest and sales. Perhaps Justin used a Quick Extender Pro penis extender or perhaps he's just lucky – either way it proves you can't always judge a book by its cover … or its cover songs.