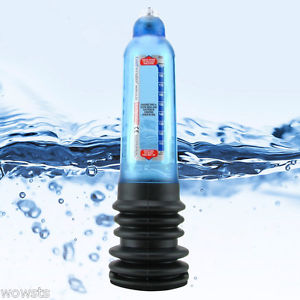 If you're into penis enlargement then chances are you've already heard about water pumps. They're the latest development in vacuum style pumps that deliver gains in girth. This new
generation promises more than just a temporarily wider penis. These new machines claim they can deliver gains in both length and girth that can be permanent. So are they able to deliver to a demanding public or are they just over promising but under-delivering?
The Logic Behind Water Pumps
In order to evaluate this latest trend, it's important to understand how and why they developed in the first place. The science behind these water pumps is based on the same principles as traditional vacuum pumps.
The vacuum penis pump was originally developed in 1917 by an Austrian inventor named Otto Ledever. His pump was the first product commercially available to men who wanted a larger penis and it heralded the dawn of the male enhancement industry.
Over the years, vacuum pump didn't change much since they worked and delivered the results they promised. By drawing more blood into the penis through a vacuum pump, men could create a wider penis, increasing their girth almost instantly. While the results were temporary, they were impressive, reliable and popular with men throughout history.
Traction devices, on the other hand, developed later but have come to be the standard for men who want permanent gains in length. Penile extenders work on the scientific principle of traction. They use a small amount of force over a long period of time to create penis enlargement. While initially viewed with a great amount of scepticism, these devices have now been shown to work in clinical trials. These recent findings have created a renewed interest in penis enlargement in general.
And that's where water pumps come in. Water pumps are a new twist on the established processes used by traditional vacuum pumps. These pumps used water to create the same kind of vacuum force but in a way that distributes the pressure more evenly and is more comfortable for the man using the device. This has made them an attractive option for guys just starting to consider enlargement. Once they start learning about how penile enlargement devices work, they soon realize the old adage of 'no pain no gain' is as true in enlargement as it is in anything else.
Can Water Pumps Deliver Long Term Gains?
While the science behind water pumps is solid in terms of short term gains in girth and possibly length, can they be used to create a long-term change? The truth is the jury's still out on how these devices preform in the long term.
In order for any approach to result in long-term penile enlargement, you need to give it a lot of time. Even surgery – often seen as the ultimate quick fix – requires a healing and recovery time of at least 8 to 10 weeks, roughly the same amount of time it takes to start seeing results with traction devices.
Water pumps have been given glowing reviews by dozens of men when compared to traditional vacuum pumps. There seems to be little doubt that these new devices can deliver greater girth and with less discomfort than older devices. But there isn't much information out there on men who have tried it for long term gains. Part of the issue may be the length of time men need to use a device to create a longer penis. Traction devices work so well because they can be worn up to 12 hours. Water pumps, on the other hand, aren't as easy to wear for long periods of time.
Could water pumps change the landscape of penis enlargement options? Absolutely. But they're not quite the perfect device some companies would have you believe. While these new devices are certainly proving their efficacy when it comes to girth, we're still waiting to see how it fares for men in search of a longer penis.