There are many reasons you might use a penis extender such as the Quick Extender Pro instead of a penis pump.  While you may read that both can help make you larger, the truth is that penis extenders and penis pumps work in very different ways, and only one of them will actually add permanent inches to your erection.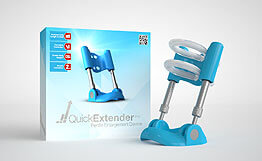 Penis pumps are tight cylinders that are slid down over the penis.  The user then either turns on the motorised pump or manually pumps the device to create suction.  This suction pulls more blood to the penis.  The blood is absorbed by the tissue in the penis to create a larger erection.  The idea is the same behind some of the various penis pills and patches.  Because most men don't get the full amount of blood flowing to their erection, they don't achieve their full length or girth.  A penis pump corrects that.
Obviously, this length is not permanent.  If you're not going to have sex right away, you have to put a compression ring around the base of the penis to keep that extra blood there.  It can also be dangerous because the suction can cause an imbalance in the inner blood pressure of your penis.  This can actually lead to damaging the veins in the penis, resulting in uncomfortable swelling or, in some cases, even erectile dysfunction.
On the other hand, penis extenders such as the Quick Extender Pro use traction to stretch the penis.  This creates microscopic, painless tears in the shaft of the penis.  The body responds to these tears by creating new cells to fill them in, and these new cells add to the overall length of the penis.  This method is permanent, and it's completely harmless as well.  The Quick Extender Pro will not cause any damage to the veins in the penis, nor will it cause any other problem.  It's safe and very effective, so don't even bother with penis pumps.