The average penis length was once recorded as being between six and six and a half inches long which was depressing news for many men.  However, the discovery of the fact that these measurements were in fact taken by men at home who did not know how to measure their penises correctly lifted the spirits of men all over the world.  The true statistic for the average penis now stands at between 5.3 and 5.9 inches.
Micropenis
For a penis to be medically determined as being abnormally small, it must be above two and a half deviations below the average penis size, so around two inches or less.  This condition is called Micropenis or micro phallus and is reported to affect somewhere in the region of 6% of men worldwide.
The condition can be diagnosed during infancy and can be the result of several different causes, most commonly:
Testicular dysgenesis – brought about by lack of androgen development as a foetus
Testosterone imbalances
Hypergonadism
Growth hormone deficiency
Enlarging the Penis
The vast majority of men are fortunate to not be sufferers of micropenis, yet many would still wish for an extra couple of inches anyway.  Men regard their penis size as being relative to their masculinity although perhaps subconsciously.
For many men, extra penile length would improve their overall self-confidence and allow them to reach for goals that they may otherwise pass up.  Whilst it is said that size doesn't matter, that may be true for women, but for men, whether they admit it or not; size definitely does matter.
Penis Enlargement Products
Penis enlargement has been a popular topic for many years and the result of this is a wide variety of penis enlargement products on today's market as well as numerous surgeries.
Male enhancement supplements are designed to increase blood flow to the penis creating a larger erection.  There are both synthetic and natural forms of such pills.  A doctor should be consulted before taking any type of pill that claims to enhance the penis as most contain blood thinning ingredients in order to increase the blood flow to the penis.  Although the pills may be safe for many men to take, men with heart conditions or vascular problems, or those who are taking medications already should be aware of how the pills may affect them.  There are a number of side-effects with such pills that can be dangerous.  Realistically, male enhancement pills are catered more for men who suffer with a sexual dysfunction rather than to increase penis size.  Although some men claim to see an increase in size during erection, there is no difference to the penis in its flaccid state and when the effects of the pills wear off altogether should the man stop taking them, so do any effects that may have temporarily enlarged the penis.
Penis pumps work by cylinders being placed within the erection chambers of the penis.  These lead to a reservoir of fluid near the groin and a pump which is placed between the testes.  Once the pump is activated, the fluid from the reservoir travels down the tubes and into the cylinders in the chambers.  As the cylinders fill, the penis becomes erect.  This method is used mainly for men who suffer with erectile dysfunction but there are certain adaptations that can be made such as fitting larger cylinders to enhance the size of the penis when it is erect.
Surgery is an option that will give permanent results.  There are various different surgeries that are used to increase penis size.  Some use weights to stretch the ligaments that hold the penis after they have been severed.  Others harvest skin from different areas of the body and wrap them around the penis to increase its girth.  As well as the normal risks of any surgery (allergic reaction to anaesthetic, infection etc.) there could be serious repercussions involving loss of erectile function or even a smaller penis than the original.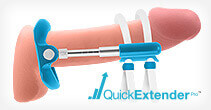 Penis extender devices use traction in order to stretch the penis gradually over a period of time until the tissue rips and the body heals itself.  As the penis is healed, healthy tissue grows where the rips are and the size of the penis is increased.  This is the only method that has been medically proven to work, giving permanent results without having huge risks involved.
Natural Remedies
Many men look into natural and home remedies to lengthen their penis for obvious reasons.  Firstly, the cost of home remedies is either nothing at all or very little indeed and secondly, there is far less risk for the most part.
Jelqing exercises to enlarge the penis are popular among many men.  Massaging the penis in a semi-erect state to stimulate blood flow and work the PC muscle is said to increase penis size over time.
Trying to withhold ejaculation for as long as possible can does not only have the benefit of pleasing a man's partner, but the muscles stretch during sex, so the longer they are stretched and working, the more chance of them growing.
One way to increase perceived penis length without physically doing so is to lose weight.  Men who are overweight often look like they have smaller penises because of the size of the penis in relation to the rest of the body.  Trimming a few pounds could from the body could add inches to the penis.